100 Day Comfort Guarantee and 20 Year Warranty
Welcome to Dawn Latex Mattresses Canberra
Dawn Latex Mattress supply the highest quality organic latex mattress in Canberra and to all regions of the Australian Capital Territory.
Sleep peacefully and get a good quality sleep for better health  
Dawn Latex Mattresses offer the most supportive, comfortable and luxurious mattress in Canberra. When you sleep on one of our individually customized natural latex beds you will wake feeling, revitalized, refreshed and with more energy to enjoy and get the most out of your day. Our customers regularly tell us their sleep quality has improved significantly after sleeping on our natural mattresses and that they have no more tiredness or back pain. Better quality sleep gives you more balanced energy to help you easily rise above any challenges of the day weather at work or play.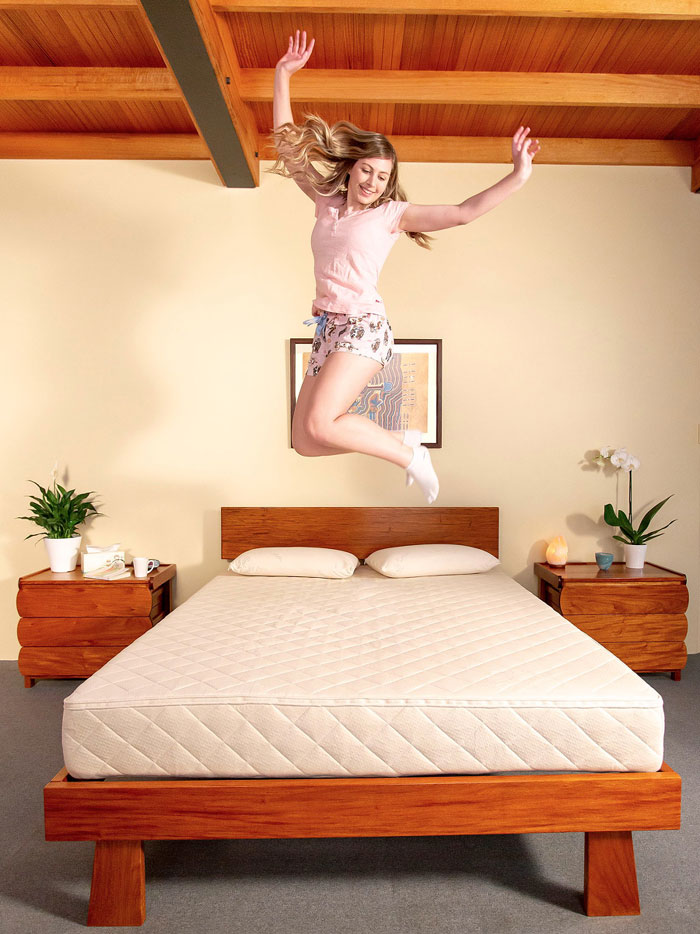 Shopping Latex mattresses in Canberra
For friendly, professional and helpful advice based on over 36 years of experience, phone us today on 1800822681 or if you prefer do our free and quick online Mattress Finder to get the correct mattress type at guaranteed best price latex mattress. Selection is easy when buying a latex mattress when you follow our Mattress Finder recommendations where you will see instantly your customized results displayed for you in our Mattress Wizard.
Free Latex Mattress Delivery Canberra
As part of our service, we provide free and fully insured Canberra latex mattress delivery within 7 days to your door. Please advise if you have any special delivery requests or instructions and we will follow accordingly.
Shop our pure latex beds with confidence. With our 100-day comfort guarantee and extensive 20-year warranty, you can purchase securely and safely with the peace of mind of knowing you are buying Australian best latex mattress.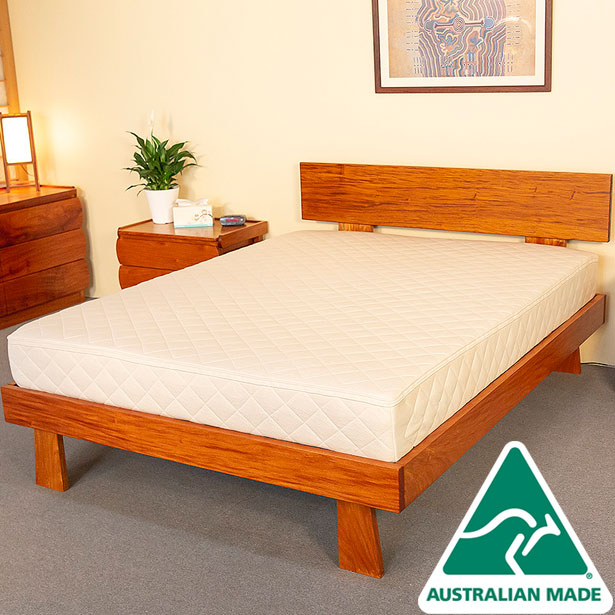 Dawn Latex Mattress Established Since 1986
We have been supplying our natural bedding products in Perth for over 35 years and we are a certified Australian Made and owned business, which is still owned and hands on operated by Brett Craig the original founder. Our business philosophy is a simple one, first always listen to our customers experience as this gives us valuable information in determining the best mattress to suit their individual needs and supply only the best quality, price and service.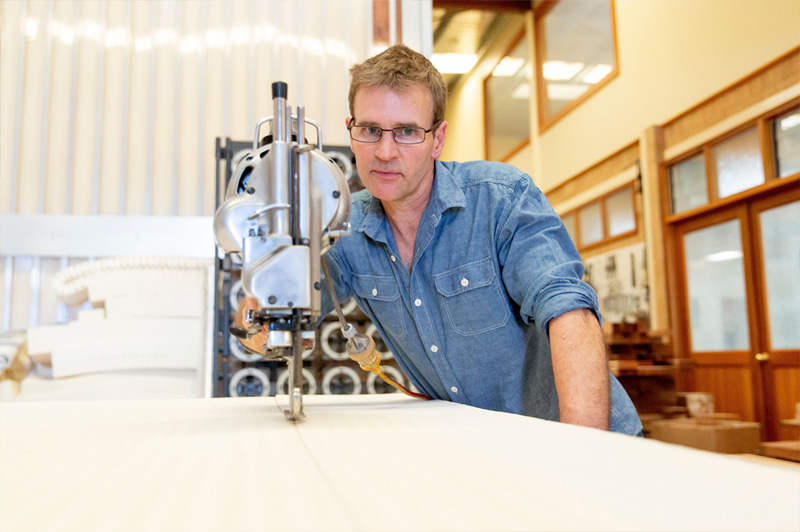 Australian Made, factory direct prices.
Buy a latex Mattress in Canberra from home
Buying a latex bed in Canberra is easy, safe and can be done quickly and confidently from the comfort of your own home. All sizes are available, a latex queen mattress is still the most popular size for couples and single persons, the luxury of sleeping area a latex king mattress provides make it the second most popular size and gives a couple plenty of extra width to spread out, a latex king single mattress provides extra length and width for one person, a latex double mattress is extra spacious for one person or nice and cuddly for couples, a latex single mattress is great for children and still compact and comfortable for a single adult. We also do a super king latex mattress which is the largest available and because we make our latex beds in Australia, any custom size latex bed can be made to your specifications and requirements.
Try our Free Mattress Finder it's so easy and fun to use
You will be pleased how helpful and informative the results will be. You can choose to accept our Mattress Finder recommendations or explore freely the various options our Mattress Wizard provides. If you have any questions or need further advice, please don't hesitate to contact our friendly and experienced staff by phone on 1800822681 who are always available even after hours.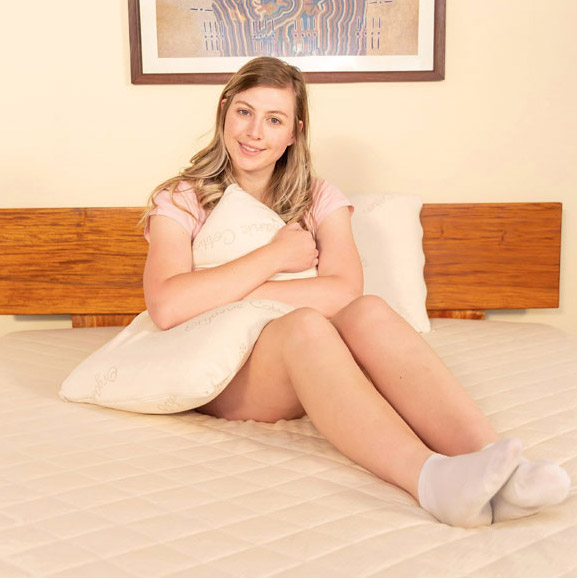 Want the best latex bed in Canberra
Our range of pure natural latex bedding products are fully Australia Made and Owned endorsed. We have been supplying our Canberra latex mattress customers for over 35 years with the best quality pure organic beds at factory direct prices to suit any budget. We also manufacture the largest range of uniquely crafted solid timber latex mattress bed frames. Crafted by hand from Tasmanian Oak and complimented with our special European Posture Slat System our bed frames are perfectly matched for our natural mattresses in Canberra.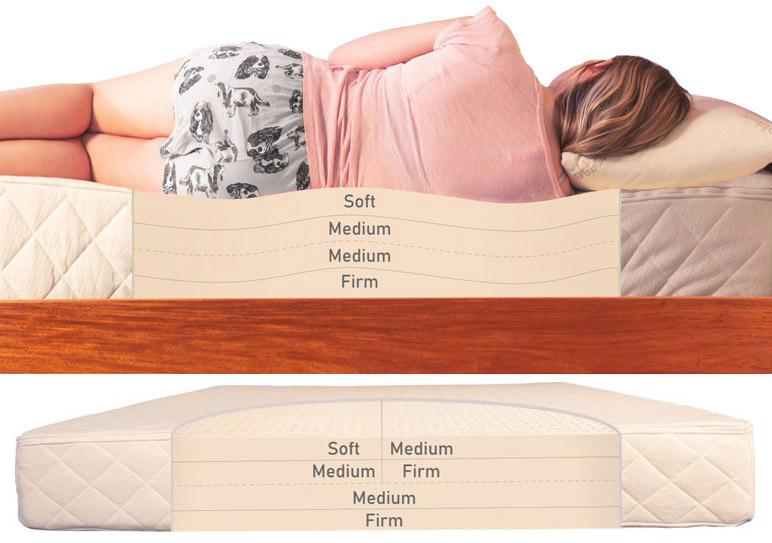 Best and largest range of natural latex bedding in Canberra
With more than one hundred different mattresses to choose from you'll be sure to find the correct mattress to suit your individual needs, comfort and support expectations. Our comprehensive range includes our thickest extra latex mattress plush, our most popular latex mattress luxury, and our economical lighter weight latex mattress supreme, all available in a latex soft mattress, latex firm mattress and latex medium mattress densities. They also come in Dual density and Multi density options and Mono zone or 7 zone latex core designs are also available. We specialize in tailoring our natural beds to suit couples or individuals with different softness and firmness requirements and expectations. With our special combination of soft, medium and firm latex layers and with our removable mattress cover design you can adjust the density of your natural latex mattress easily at any time in the comfort and convenience of your home. Our Mattresses adjust to you, so there is no need for you to compromise your comfort or support by trying to adjust to the mattress.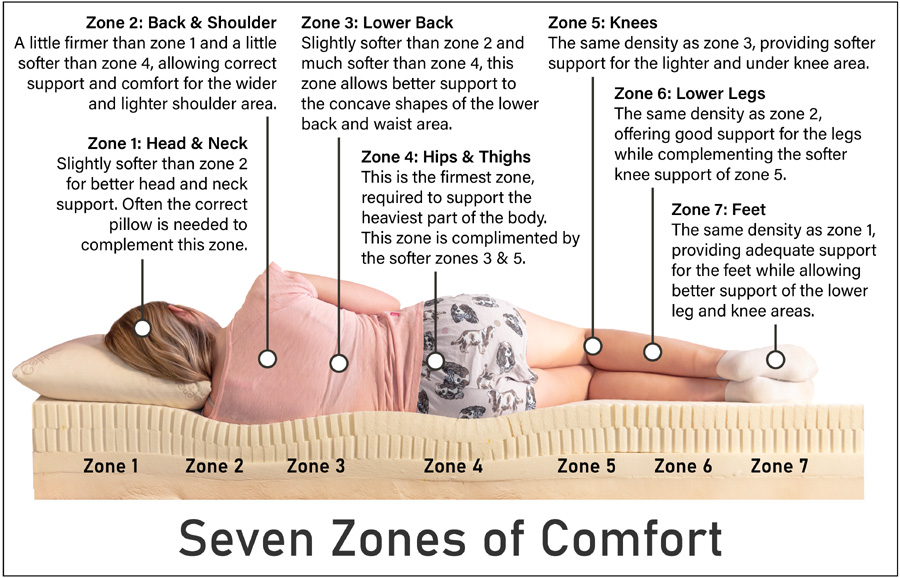 The most pure and natural latex beds
We use the best quality ECO and LGA German tested organic GOLS certified Dunlop processed latex, which is guaranteed to be highly durable and resilient. Being made from 100% pure natural materials they have no off-gassing and therefor are a certified Nontoxic latex mattress.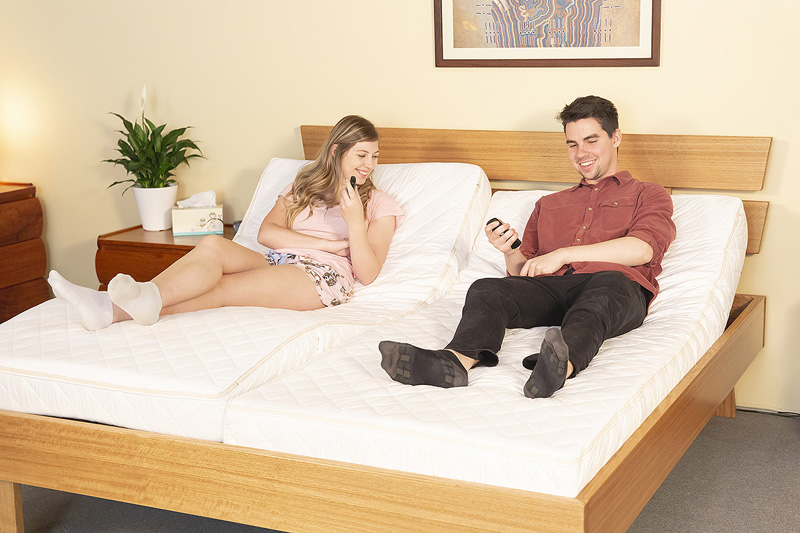 Luxurious Natural Tencel quilted covers which are Removable and washable
Our washable 100% natural Tencel quilted mattress covers are covered with 100% natural cotton and are more comfortable, breathable and hygienic offering a healthier and cooler night's rest. The best dust mite protection and hygiene are provided with our heavy duty quilted two-part mattress covers. The special design allows each part of the cover to be washed separately, easily and conveniently at home in a normal size washing machine.
Mattress softness and firmness adjusted easily at home  
Our natural latex beds in Canberra have our unique Multi density cores, this allows you to adjust the firmness and softness of your latex bed easily at home, achieving the ultimate comfort and support. For couples with different softness or firmness needs our Dual density mattresses are highly recommended, each side of the mattress can be made a different density, this allows each person to tailor the softness or firmness individually on their side of the mattress. Never again do you need to sacrifice your comfort for your partners, you can both have exactly the comfort and support you require in the one queen or king size mattress.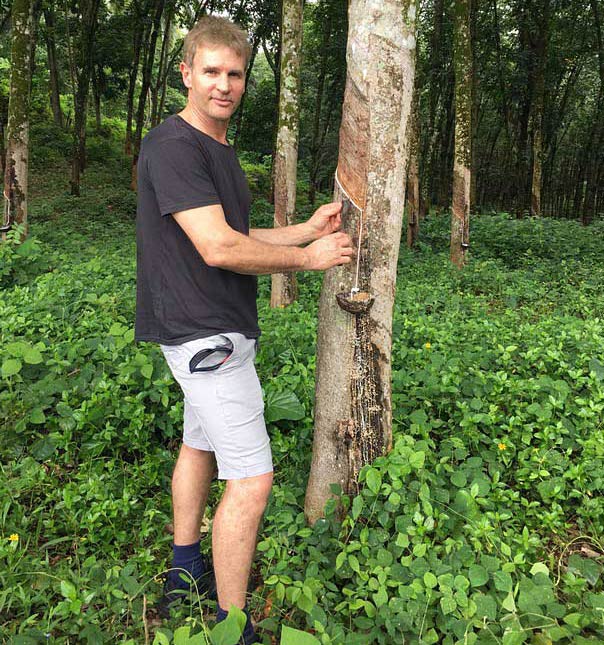 Hands on, Owner manager Brett Craig
Checking Quality control at the Source.
Your optimum sleep health and wellbeing are our priority.
Our uniquely tailored natural latex beds are vitally important for your optimum sleeping health and comfort. Our natural beds have unmatched ability to align correctly, offering better comfort and support to a wide variety of different body types and sleeping positions. The correct mattress density and thickness which is prescribed on the individual's height and weight is critical for making the right selection for your new mattress, also understanding your personal needs and preferences is also vitally important to factor in. The type of bed you are currently using, the base support you plan to use with your new mattress and your general sleeping history are all important considerations when determining the best latex mattress in Canberra for your optimum sleeping health and overall wellbeing.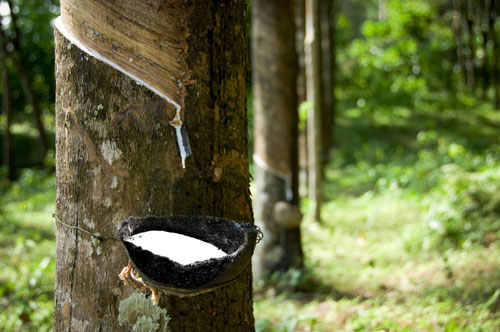 Eco Friendly beds in Canberra
Our natural, pure biodegradable organic beds have the least environmental impact of any other type of bed. Being made from 100% pure natural materials, they are truly the most ecofriendly beds available. This means they are also the best choice in helping to protect our planet and ultimately the most environmentally friendly mattress to choose from.
Dawn Latex Mattresses in Canberra wishes, when you rest that you Sleep well and Wake refreshed.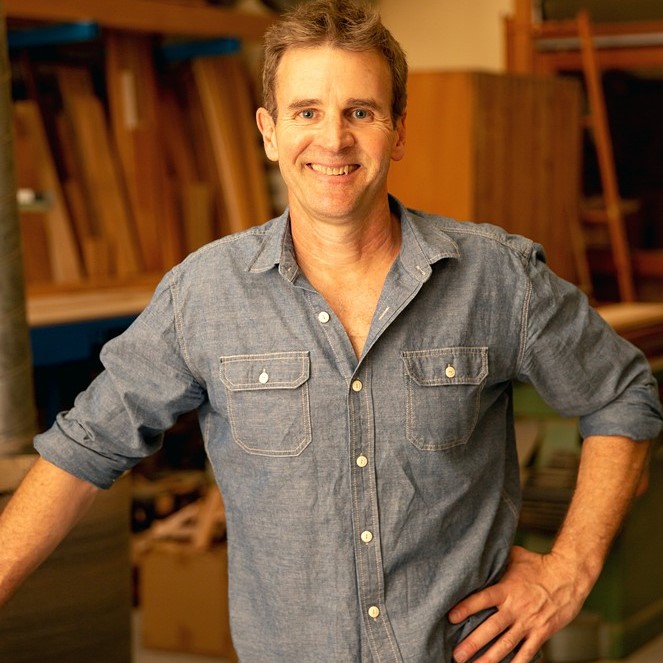 Hands on, Owner manager Brett Craig
Guarantees best quality, service and price.

This test evaluates the durability and the resilience characteristics of natural latex. Our 100% Natural Latex scores 99/100 points.
Click to view certificate.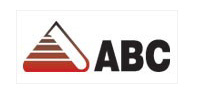 This test which is conducted in ABC labs, USA, evaluates the antibacterial efficacy of natural latex.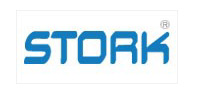 Conducted by the Twin City Corporation, USA, this test evaluates the body interface pressure for latex products.