Latex Mattress Care and Maintenance
An inferior mattress demands that you adjust to it. All our latex mattresses have our unique Multi Density feature; with up to 8 density settings in the one mattress they can be adjusted to your desired comfort and support. Other new mattresses may require a setting-in period which can force your spine out of alignment, causing back pain. Not so with our latex mattresses which respond to your body incrementally, so that they feel comfortable not only at the start but for the life of the mattress.
Bedding down
Most mattresses use non-resilient materials which quickly compress, distorting the sleeping surface. When you first try it, you get a false impression of how it will feel over time. By contrast, our latex mattresses have minimum surface distortion because the 100% natural Tencel comfort layer is pre-compressed, ensuring maximum comfort and support for its life time. This feature complements the highly durable nature of our Natural latex Mattresses, so that you get the best comfort and support.
Lifting and Moving
Dawn Natural Latex Mattresses are highly resilient and easy to care for. They can be rolled, folded, rotated and turned over as required without affecting their durability. To make sure your mattress suffers no damage during any of these actions, carefully follow the care instructions below.
Latex Mattresses are heavy, so generally it is better if two people can share the weight to make sure you always lift safely. Be especially careful not to tear the mattress cover or zip by placing undue pressure on the cover material. Grasp the mattress by the entire thickness and weight, never only by the handles. If sliding the mattress over the timber slats be careful not to catch splinters which can rip the mattress cover; and ensure that the zip ends do not damage any of the seen timber frame surfaces.
Washing the Mattress Cover
For general good hygiene we recommend that you wash your mattress cover once a year, but this is not absolutely necessary. Because the top part of the cover can be completely separated from the bottom part you can easily wash the whole cover in 2 separate loads in your washing machine at home. Always wash your cover in cold water on a gentle cycle only using mild detergent and hang to dry in the shade. You can also dry clean, in which case we recommend that the environmentally friendly water based process is better than the more common spirit based process.
Overlays and Protectors
Some latex mattresses have fixed covers that may require extra comfort overlays or mattress protectors. Our luxurious 100% natural Tencel mattress covers are removable for easy washing at home. The beneficial breathing properties of our latex mattresses are unrestricted because the Tencel cover itself is made of natural materials that breathe. If you decide you do want an additional mattress protector, we recommend our 100% natural Tencel quilted mattress protector, made from the same materials as our mattress covers. The main consideration when choosing any overlay or mattress protector is to check that it is made of 100% natural materials that will not restrict the natural breathing properties of the latex mattress.
Mattress Cover Removal
To unzip the cover ensure the zip side of the mattress is facing up. Folding the top of the cover open, gently remove the latex mattress cores. To avoid damaging the latex, never lift them by the corners or edges as this can tear the latex. Roll the latex into a roll for lifting as it will be less likely to damage and easier to manage.
Never expose your latex mattress cores to direct sunlight; always keep them covered and indoors where there is good ventilation. Small areas of your latex cores can be spot-cleaned with cloth, dampened with warm water and mild detergent, but make sure that the latex is completely dry before installing it back inside the covering.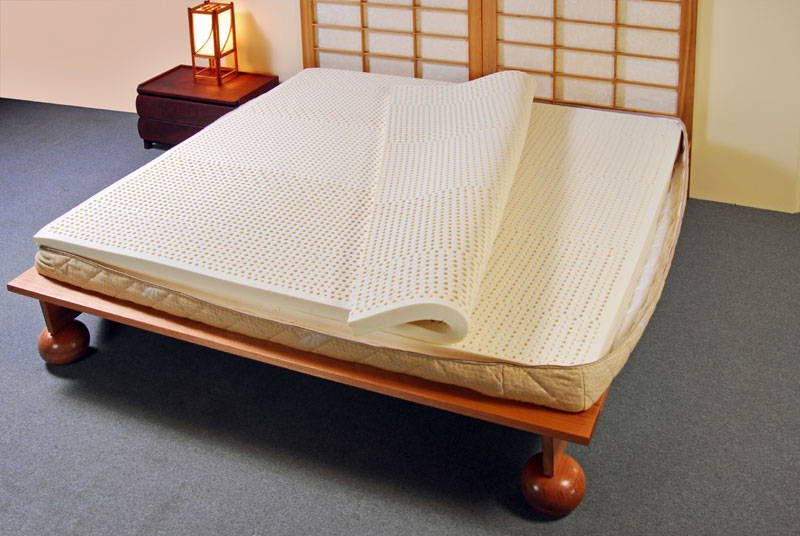 Installing the Latex back in the Cover
Place the cover on top of the bed with the zip side up and fold the top of the cover open to expose the bottom inside of the cover. Lay as accurately as possible the 10cm latex core on the inside of the cover, stretching the bottom of the cover so the seams of the cover line up with edges of the latex core. Place any additional latex cores on top, lining the edges up exactly with the bottom core. While folding the top of the cover over, gently tuck in the latex slightly under the non-zipped seam then gently stretch the cover to fit to ensure zipping up the cover is easy. Make sure that the zip closes freely and easily with no undue pressure and that no materials get caught in the zip.
Mattresses generally build moisture between the bottom of the mattress and the surface they are on. This moisture is a breeding ground for dust mites and bacteria, and conventional mattresses require chemical treatments to deal with the problem. Our special removable, washable covers and posture slat frames render such chemical treatments unnecessary. Generally, our mattress will require no maintenance. However, we suggest that you check every 6- 8 weeks to make sure that no unusual circumstances might be causing a moisture build up. Slide your hand under the mattress where your mid-body has been supported and if it feels damp, look to see if there is any mould. If mould is evident, contact us immediately for advice on the best method for washing.
If you do not use our posture slats, your support base is unlikely to provide adequate ventilation. In this case we advise that you inspect the mattress initially every 2 to 3 days. If no mould is detected, then the time between inspections can be extended incrementally to establish what if any extra maintenance is required. The same applies if you sweat a lot, are bed ridden or living in tropical environments.
Turning and Rotating
All mattresses should be rotated regularly to maximize their life. The same is true of latex mattresses. But Dawn Latex mattresses are highly resilient and generally require rotation less often. Avoid unnecessary maintenance by observing your latex mattress over time to determine when, if at all, rotation is required. Turning our latex mattress over is not necessary for even wear of the mattress; however you may need to if moisture is detected between the bottom of the mattress and the slat support.
Dawn Latex Beds furniture is made from the finest Australian native hardwood. We use only 100% natural Bio Varnish. Other furniture lacquers change the natural colour of the timber; Bio Varnish retains and highlights the subtle variations of the natural timber colour. This unique result is the way nature intended and is not to be considered a manufacturing fault or defect. Moreover, chemical lacquers sit on the surface. They can be scratched easily and usually require repair by a professional. Our special Bio varnish is a natural oil based finish which penetrates deeply and blends with the timber's natural resins and oils to provide a highly durable and resistant surface. In the unlikely event that it does get scratched it can be easily repaired by simply rubbing in some more bio varnish.
Some maintenance precautions:
Don't expose our furniture to weather or any outside conditions.
Don't put hot or wet objects on the varnished surface.
Don't let nail polish or chemicals come into contact with the varnished surface.
Know that timber may naturally darken or lighten depending on sunlight exposure.
If any further advice is required please contact us immediately.
See also: Features» Natural Bio Vanish
Please do not use any timber waxes or polishes without first checking with us first. Simply use a lightly dampened cloth or dust with a dry static dust collector.
The golden rule is Take your time and be careful to follow the instructions when assembling the bed frames. If in doubt, contact us for further advice.
Assembly instructions and bed hardware should be kept in a safe place for later use and reference.
You should check and re-tighten where necessary all fixings after the first week's use and at the beginning and the end of the summer and winter seasons.
All our bed hardware is very strong and can handle heavy hand tightening but make sure that the allen key is fully and properly inserted into any fitting before applying pressure.
Maximum life of your posture slats can be maintained by simply rotating them once a year.